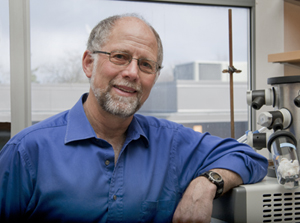 Stephen Withers, Associate Member in the Department of Biochemistry & Molecular Biology and Professor in the UBC Department of Chemistry, has been elected as a Fellow to the prestigious Royal Society of London.
Dr. Withers, a Canada Research Chair in Chemical Biology, studies how enzymes function and investigates their potential use in industry and in therapeutics. Spanning many disciplines, his research has opened new doors for treating various diseases and introduced new research techniques. Among his achievements is an inhibitor with the potential to prevent the influenza virus from using its own enzymes to spread through the body, potential treatments for diabetes and other diseases, and new ways to synthesize complex sugars using engineered enzymes. Dr. Withers is also the Director of the Centre for High-Throughput Biology at UBC.
The Royal Society of London is a self-governing Fellowship of distinguished scientists drawn from all areas of science, engineering and medicine. Fellows and Foreign Members are elected for life through a peer review process on the basis of scientific excellence, and have included Isaac Newton, Charles Darwin, Albert Einstein and Stephen Hawking. There are approximately 1,500 Fellows and Foreign Members; only 11 UBC science researchers have been elected to the Society.