May 2013
HRH The Duke of York dedicates cornerstone of Djavad Mowafaghian Centre for Brain Health
The Duke of York (left), UBC President Stephen J. Toope and Djavad Mowafaghian discuss the future brain health centre.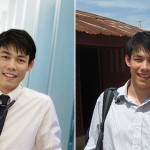 The double life of pediatrics resident Kristopher Kang
From the corridors of BC Children's Hospital to gunfire and bombs, subsistence poverty and rudimentary governance.
MD class of 2015 donation gives a lift to low-income patients
The students donated $9,292 to Hope Air, which arranges free flights for patients needing specialized care.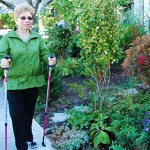 Strength training + cardio workouts = less time at the doctor
Yoga or Pilates, however, don't help, according to the study of senior women published in PLOS ONE.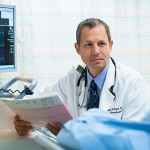 UBC cardiologists help show that blood thinner is safe for patients getting cardiac devices
Andrew Krahn, one of the study's organizers, said the findings will simplify pre-operative drug treatment to prevent strokes.
Investigations and breakthroughs
Another culprit for obesity: Too much insulin A serendipitous discovery by Associate Professor James Johnson could overturn widely accepted notions about healthy eating habits. The study, published in Cell Metabolism, examined the role of insulin, the hormone that allows the body to store blood sugar for later use as an energy source. Dr. Johnson, in [...]
Philanthropists bet on Faculty of Medicine for life-saving solutions
Although the Canadian government is the largest single source of the Faculty of Medicine's research funding, its various granting agencies are understandably wary of unconventional ideas. That is often where private foundations step in. Philanthropists can take a chance on a risky idea with the potential for high reward — an innovative solution that can [...]
Voyages of discovery, close to home
As Europeans colonized Canada's western coast, the uncharted wilderness slowly yielded its secrets to explorers, trappers,  miners and cartographers. But understanding of the indigenous peoples always lagged behind Europeans' knowledge of the land, and still does. Professor of Speech-Language Pathology May Bernhardt discovered one such area of uncharted cultural understanding several years ago — in [...]
Cutting edge, without the cutting
Interventional radiology (IR) is among the youngest of medical fields, dating only to the 1960s, when Portland's Charles Dotter invented angioplasty and the catheter-delivered stent. Owing to its novelty and its reliance on technology, IR is one of the most rapidly-evolving medical subspecialities. Dave Liu is riding that wave's leading edge. "We're trying to develop [...]
Resident researchers
Medical residents play two roles — they are physicians, caring for patients, and they are trainees, soaking up the vast amount of knowledge necessary to become expert practitioners in their chosen specialties. But they are often researchers, too. It may be optional,  but for many, it's the natural outgrowth of the process of learning and treating, [...]
April 2013
Faculty members receive federal bioinformatics funding
Among the five winning UBC projects is one aiming to improve clinical testing for various types of cancer.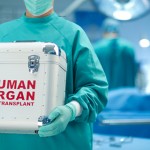 UBC scientists enlisted in transplant research project
Associate Professor Megan Levings will co-lead an investigation seeking to reduce the need for immune-suppressant drugs.
Spinal cord researchers to benefit from $20M Rick Hansen Foundation investment
The funds will be used to pursue treatments in the laboratory and to launch clinical trials.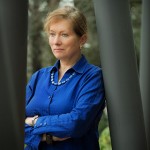 Health behind bars
Ruth Martin, Clinical Professor of Family Practice, helps women make the transition from prison to freedom.
Doctors not informed of harmful effects of medicines during sales visits
Family doctors receive little or no information about harmful effects of medicines in the majority of drug promotions during visits by drug company representatives, according to an international study involving Canadian, U.S. and French physicians. Yet the same doctors indicated that they were likely to start prescribing these drugs, consistent with previous research that shows [...]
UBC ranked number one in University Global Health Impact Report Card
The report card evaluated top U.S. and Canadian research universities on contributions to global health.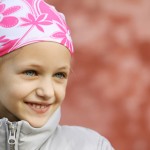 UBC researchers part of new "Pediatric Cancer Dream Team"
The "Dream Team" is receiving $14.5 million to study novel therapies for the most challenging-to-cure childhood cancers.
Healthy doctors make healthy patients, study finds
Patients are more likely to follow preventive health practices like getting a flu shot or mammography if their doctors do likewise, researchers at UBC and in Israel have discovered. "We found that patients whose physicians adhered to the recommended screening or vaccination practices were significantly more likely to also undergo screening or vaccination compared with [...]
Canada loses out on drug pricing: UBC study
Health systems worldwide are increasingly negotiating secret price rebates from pharmaceutical companies and Canadians risk losing out on the deal. "The pricing of medicines is now a game of negotiation, similar to buying a car at a dealership," says Steve Morgan, an Associate Professor in the School of Population and Public Health. "There's a list [...]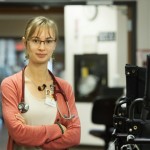 Growing rural medicine
Adrienne Montgomery is completing her MD at UBC's Northern Medical Program and will return to Terrace for her residency.
March 2013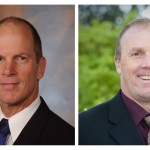 Two new appointments to Faculty's leadership
John Kestle (left) and William Miller recently assumed leadership roles in the Faculty of Medicine.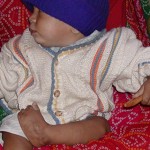 UBC clubfoot treatment in Bangladesh gets $4.3 million federal boost
The grant will set up a system of training health workers in a non-surgical method of treating the debilitating condition.
UBC stroke education reaches Chinese homes in B.C.
The Intercultural Online Health Network is partnering with Fairchild TV to produce a six-installment series in Cantonese.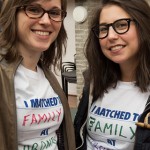 Next stop: Residency
A record number of medical school graduates from across Canada will soon start their residencies around the province.
February 2013
Pathology and Laboratory Medicine researchers win "Impact Grants" from Canadian Cancer Society
Sam Aparicio, one of the three grantees, is receiving $1.25 million to study genetic changes as breast cancer tumours grow.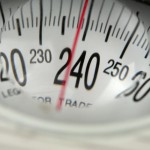 UBC study finds Canadian adult obesity at historic high
The Maritimes and the two Territories had the highest obesity rates; B.C. and Quebec were among the lowest.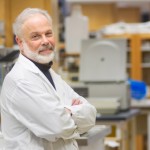 Immune-based therapy for Alzheimer's moves closer to development
Neurology Professor Neil Cashman discovered that antibodies can attack the toxic protein before it forms plaques in the brain.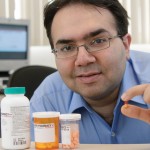 Study debunks claims that acne drug causes digestive disorder
Mahyar Etminan led the statistical analysis of isotretinoin, which has been the subject of hundreds of lawsuits.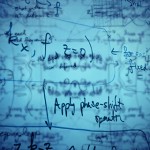 World Health Organization recognizes Division of Mathematical Modeling as Collaborating Centre
The unit will integrate models and data from many sources to identify potential improvements in health care.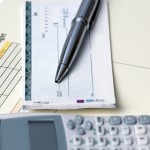 Private premiums add up to largest out-of-pocket health expense for Canadians
Premiums averaged $1,200 a year per affected household, according to the analysis by Assistant Professor Michael Law.
Arrhythmia culprit caught in action
Assistant Professor Filip Van Petegem revealed how gene mutations affect the heart's calcium pathway.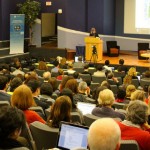 The power of Tweeting and Facebooking to improve health
The eHealth Strategy Office helped organize the public forum Feb. 4 at UBC Robson Square.
In memory of Clyde Hertzman, 1953 – 2013
Dr. Hertzman, who died suddenly last week, delineated the role of early childhood development as a determinant of health.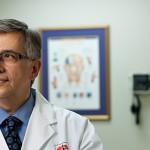 UBC neurologist calibrates blood pressure targets for preventing recurrent stroke
Professor Oscar Benavente presented his findings at the American Stroke Association's International Stroke Conference Feb. 8.
January 2013
The lingering damage of concussions
Adolescent athletes could be returning to sports before their brain injuries have fully healed.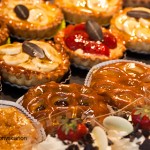 Insulin can dull the enticing effect of mouth-watering food images
Stephanie Borgland showed that insuin affects the reward-seeking area of the brain.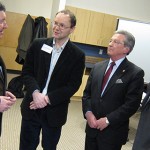 Cancer Research Society awards six grants to Faculty of Medicine scientists
The organization visited Vancouver Jan. 24 to announce more than $700,000 in funding.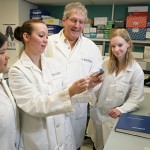 UBC-developed test for predicting lung attacks moves toward the market
The biomarker was developed by the PROOF Center, led by Bruce McManus (centre).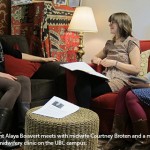 Exploring the barriers to midwifery care
The study seeks to determine why use of midwives is not equally distributed across the B.C. population.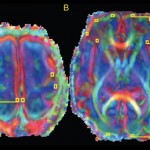 New research finds link between slower growth of pre-term infants and altered brain development
The study used MRI scans of pre-term infants shortly after birth (A), and then at what would been their due date (B).
December 2012
Robert Sindelar appointed Associate Dean, Research and President of Providence Health Care Research Institute
Dr. Sindelar's expertise lies in medicinal chemistry, computer-aided drug discovery, and health care system innovation.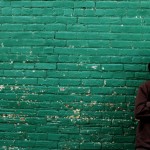 UBC researchers probe causes of injection drug use by street-involved youth
Homelessness and childhood sex abuse were key risk factors, according to a pair of published studies.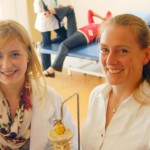 New physiotherapy teaching lab opens in the North
Regan Daoust (left), a student in the Northern and Rural Cohort, which is being coordinated by Instructor Robin Roots.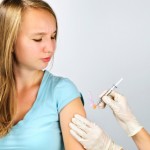 UBC leads national study on HPV vaccine
The study, which is seeking participants, will try to determine whether two doses of the vaccine are as protective as three.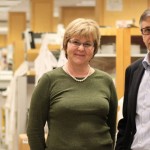 The hidden damage of "small strokes"
Claudia Jacova and Oscar Benavente found that half of the people who suffered lacunar strokes had mild cognitive impairment.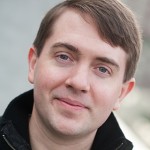 A mussel's stickiness inspires invention of an adhesive gel for blood vessels
The gel, co-invented by Assistant Professor Christian Kastrup, could prevent aneurisms and heart attacks.
Creating new opportunities for international medical graduates
Suzanne Walter (left) and Kirti Aneja received their M.D.'s abroad, and are now training to become doctors in Canada.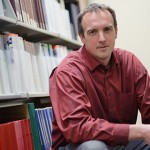 Medical education researcher finds that graders can be biased by those they just graded
Professor Kevin Eva's study, published in JAMA, uncovered potential bias in the way first-year medical residents are evaluated.
UBC research finds changes in hospitalization for MS patients
Hospital admissions for multiple sclerosis (MS) have decreased over time, but the length of stay has increased, according to new research led by Charity Evans, a former postdoctoral fellow with Helen Tremlett, an Associate Professor in the Division of Neurology. The retrospective observational study, which was published in The American Journal of Managed Care, examined [...]
Another culprit for obesity: Too much insulin
Associate Professor James Johnson says his discovery may require revisiting recommendations about eating habits.
November 2012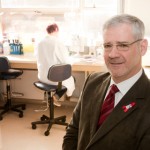 As new study proves value of B.C.'s HIV/AIDS strategy, province expands its reach
Professor Julio Montaner pioneered the treatment-as-prevention approach.
UBC to lead national study of HIV's effects on women and their children
The researchers will examine accelerated aging at the molecular, cellular and clinical level.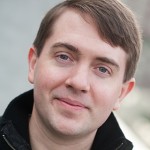 UBC inventor of self-propelled coagulant wins grant from Grand Challenges Canada
Christian Kastrup's goal is a topical medication that could be used to treat post-partum bleeding in low-income countries.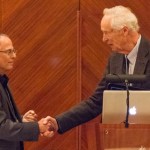 Earl W. Davie Symposium draws record attendance — including a Nobel Laureate
Ed Conway, Director of the Centre for Blood Research, greets the namesake of the symposium, now in its sixth year.
Transporting hypothermia victims to advanced heart and lung care facilities "worth the trip"
Doug Brown, a UBC emergency medicine resident, is the lead author of the article in the New England Journal of Medicine.
Faculty of Medicine celebrates 10 years of recruiting and supporting Aboriginal Students
The growing contingent of Aboriginal MD students includes Todd Alec, Nathan Teegee and Lara DesRoches.
New drug target found for cystic fibrosis lung disease
A team led by Stuart Turvey, an Associate Professor of Pediatrics, has discovered the cellular pathway that causes lung‐damaging inflammation in cystic fibrosis (CF), and found that reducing the pathway's activity also decreases inflammation. The finding offers a potential new drug target for treating this form of lung disease, which is a major cause of illness and death [...]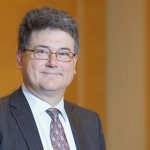 UBC effort to save pregnant women awarded additional $17 million
Prof. Peter von Dadelszen is leading the project, funded by the Bill & Melinda Gates Foundation, to diagnose and treat pre-eclampsia.
October 2012
UBC spin-off company ready to launch phone-based pulse oximeter
The technology was developed by Mark Ansermino (left), in the Faculty of Medicine, and Guy Dumont, in Applied Science.
Terry Fox Foundation supports UBC research into aggressive leukemia
A team led by R. Keith Humphries, a Professor in the Division of Hematology, will receive $5.9 million over five years from the Terry Fox Foundation (TFF) to find new ways to treat aggressive forms of leukemia by rapidly creating and using laboratory-built models that mimic human acute leukemias. Dr. Humphries, the Director of the [...]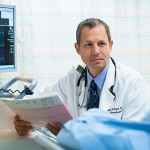 A new leader for B.C. heart research and care
Dr. Andrew Krahn, an expert on inherited arrhythmias, was welcomed as the new Head of the Division of Cardiology.
Genes and immune system shaped by childhood poverty, stress
Research led by Michael Kobor, Associate Professor of Medical Genetics, examined a process called DNA methylation.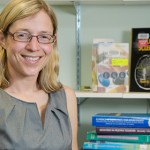 Some MS patients experience "natural" improvements in disability: UBC-VCH research
Prof. Helen Tremlett led the first study to quantify improvements in patients who are not taking immunomodulatory drugs.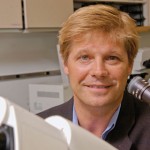 Dr. Martin Gleave – $10M Dream Team member studying advanced prostate cancer
Led by the Distinguished Professor of Urologic Sciences, the Vancouver Prostate Centre is the only Canadian site on team.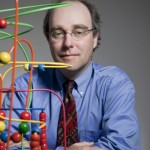 Maternal depression affects language development in babies
Co-authored by Tim Oberlander, Professor in the Dept. of Pediatrics, the study is among the first of its kind.
September 2012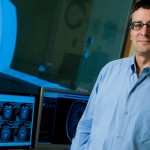 UBC neurologist to lead national clinical trial of MS treatment
Led by Assistant Professor of Neurology Anthony Traboulsee, the study will examine the efficacy of unblocking head and neck veins.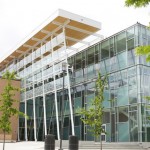 Premier opens Southern Medical Program's Reichwald Health Sciences Centre
The building, constructed with a $32.7-million investment by the B.C. government, will ultimately accommodate 128 MD students.
The impact of arthritis on mothers
Professor Catherine Backman describes her study's methodology and findings in a 2-minute video.
Collaborative maternity program results in fewer C-sections, shorter hospital stays: UBC/CFRI research
The study, led by Professor Patricia Janssen, followed women who used Vancouver's South Community Birth Program.
Combination of blood thinning drugs shown to be ineffective as stroke preventer
Neurology Professor Oscar Benavente is leading a $66-million study aimed at preventing recurrences of small subcortical strokes.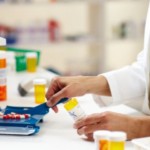 Prescription database helps check use of addictive drugs: UBC research
The study examined B.C.'s PharmaNet, which allows pharmacists to view the most recent 14 months of a patient's medication use.
August 2012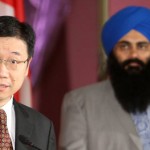 InterCultural Online Network receives funding to help prevent and manage diabetes in BC's multicultural rural communities
The project will establish a peer-support diabetes program.
July 2012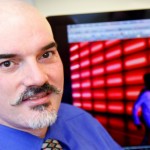 Working to protect Olympic athletes from injuries
Babak Shadgan, a postdoctoral research fellow, aims to develop evidence-based recommendations for wrestling and other sports.
Psychiatry resident uses soccer to help at-risk individuals
Dr. Bates has taken some of his players to competitions in Rio de Janeiro and Paris.
Four new appointments to Faculty's leadership
Frederick Mikelberg, Professor in the Dept. of Ophthalmology & Visual Sciences, is the new Vice-Dean, Academic Affairs.
Evan Wood, Julio Montaner send message to President Obama, Mitt Romney
Dr. Wood, a Clinical Associate Professor, was interviewed by the CBC about an advertising campaign decrying the war on drugs.
Severe flu increases risk of Parkinson's
The epidemiological study also found that having red measles in childhood lowered the odds of developing the disease.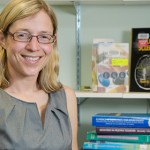 Widely-used MS drug doesn't measurably slow progression of the disease, researchers find
The study, by Associate Professor of Neurology Helen Tremlett and others, examined the effectiveness of beta-interferons.
June 2012
Three new appointments to Faculty's education portfolio
Paul Winwood becomes the Faculty's new Regional Associate Dean, Northern B.C. and UNBC's Vice Provost Medicine July 1.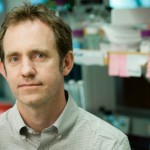 Parkinson's gene identified with help of Mennonite family
Medical Genetics Professor Matthew Farrer says the discovery helps unify past genetic discoveries about the disease.
Researchers show that stem cells can beat back diabetes
Professor Tim Kieffer used human stem cell transplants to restore self-regulating insulin production in mice.
Smartphone app helps B.C. track ovarian cancer outcomes
A locally-created new smartphone app is enabling ovarian cancer surgeons in B.C. to record details directly from the surgical suite to the provincial database where ovarian cancer tumour information is stored, investigated and tracked. The app, developed by the Cheryl Brown Ovarian Cancer Outcomes unit, a division of the Ovarian Cancer Research Program (OvCaRe), prompts [...]
A modicum of solace for MS patients — lower cancer risk
Elaine Kingwell, a postdoctoral fellow in the Brain Research Centre, led the study.
Older women more prone to workplace injuries: UBC study
Although the rate of workplace injuries in Canada has been declining over the past two decades, some workers – older women in health care, for example – are much more vulnerable to serious injuries, researchers at the University of British Columbia have found. Women 55 to 64 years old are three times more likely to [...]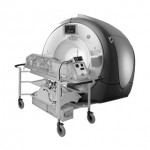 New facility brings brain development into sharper focus
The 3-Tesla MRI scanner is only the second of its kind in Canada dedicated to pediatric research.
CMMT celebrates its 15th anniversary
CMMT's 15th Anniversary from CMMT on Vimeo. Members of the medical research community gathered together on June 5 to celebrate the Centre for Molecular Medicine and Therapeutics' 15th anniversary. More than 260 supporters from government, education, health care, and life sciences communities came out for an evening of celebration. Charles Sabine, a UK journalist served [...]
UBC recognizes brain and heart researchers with $50,000 prizes
John Cairns of UBC (left) won the prize for heart research, and Guy Rouleau (right) won for his work on brain diseases.